Through a friend who sent me a couple of CDs from Abraham-Hicks on the Law of Attraction, I got to listen to one of the better speakers and teachers on Consciousness I've heard already.
To the point, practical spirituality brought in a freeing, humorous and inviting way.
Actually Esther Hicks, who gets her "inspirations" from "Abraham", also appeared on the first version of the famous The Secret project, so you might, as I did, remember her from there.
How exactly 'the machinery' behind this phenomenon of "mediation", "inspiration" or "channeling" (or whatever you want to call it) works, is another pair of scissors - but the message definitely stands.
The teachings are a good example of how cultural translated, clear, understandable, non-dogmatic explanations can truly be enlightening and inspiring towards the wonderful path of self-discovery and self-management.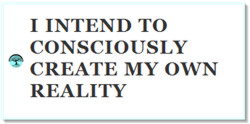 Yes, of course they have a site , which is commercial and thoroughly marketeered, but you can find some broadening views and answers to questions people have through some free video clips made during the multifold of conferences they have and are doing. These alone already are quite a dose perhaps :-)
So offer yourself a break and browse to some of these highlights and insights, which are build up around the "universal laws" (and especially the "law of attraction") which got summarized as follows on their site:
You Are a Physical Extension of That Which is Non-physical.
You Are Here in This Body Because You Chose to Be Here.
The Basis of Your Life is Freedom; the Purpose of Your Life is Joy.
You Are a Creator; You Create With Your Every Thought.
Anything That You Can Imagine is Yours to Be or Do or Have.
As You Are Choosing Your Thoughts, Your Emotions Are Guiding You.
The Universe Adores You for it Knows Your Broadest Intentions.
Relax into Your Natural Well-Being. All is Well. (Really It Is!)
You Are a Creator of Thoughtways on Your Unique Path of Joy.
Actions to Be Taken and Possessions to Be Exchanged Are
You May Appropriately Depart Your Body Without Illness or Pain.
You Can Not Die; You Are Everlasting Life.
Cheers !
Next entry: Using wildcards in IIf() statements in Access objects
Previous entry: playing with 22, 7, 142857 and precision