Self Management
[5 post(s)]
If we'll remember one thing from the month of December 2009, then it's likely to be Copenhagen Summit in Denmark on environmental issues. If not because of it's size, it's worldwide media coverage, it's political impact or lack of impact and it's result or lack of result... definitely just because of it's overall importance.
If you like clear thinking and a change of perspective which that often brings along, then here's the 'Clear Thinking' issue which landed in my email box at the time of the Summit's 'warm-up'.
Clear Thinking is a bi-monthly published E-zine by the hand of Mike George, a lucid English author and lecturer on topics dealing with Change, Change Management and Change of Consciousness.
You can subscribe using this link..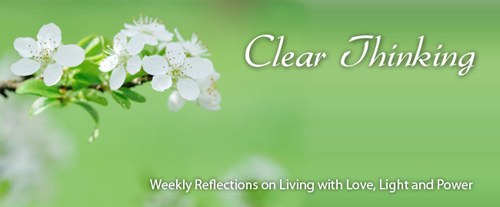 The power of the summit
Will you be listening for the good news from Denmark next month? Will you be waiting to hear what changes lies in store for your lifestyle? Will you hope that 'they' can resolve their differences and heal the world? Yet another meeting of 'our representatives' will bring together those who believe that they have the 'power to influence' all our futures. The Copenhagen summit on climate change will once again focus minds in search of joint solutions to the environmental issues that transcend all borders. Decisions will be made that may affect generations to come. Past summits seem to have done little to translate whatever consensus was achieved into decisive action. Already the leaders who will convene next month are telling us that new decisions cannot be taken as there is not enough time to organize the right ideas, draft the treaties and build consensus. While many despair at a repeating pattern of disagreement and division, prevarication and delay, others have given up hope that anything significant can be done at such gatherings of the so called movers and shakers.
One of the secrets and magical ingredients of life consists in the fact that when you're opening up for exploration of the truths 'beyond' matter - beyond the physical -, you automatically get into contact with resources and people pointing you - in subtle or sometimes very obvious ways - which road to take.
I've been fortunate to meet and work with one of the most inspiring lecturers and authors, dedicating his life exactly to this 'science of the truths beyond' and the clarification of its 'laws' and 'variables' in a very concise, comprehensible and adapted way. His name is Mike George, based in the UK but traveling the world.
If two of his sites Relax7.com and Spiritualintelligenceunit.com offer already all kind of interesting roadmaps, his books even more. He organises Awareness Retreats, and he also has a weekly ezine entitled 'Clear Thinking - Weekly Reflections on Living with Love, Light and Power', in which he 'dares' to speak out on topics which are actually close to everyone's 'inner' being, but often wrapped up in all kinds of 'stuff'.
I'm just copy/pasting the latest edition of 'Clear Thinking' here - there are more on his website - if you like it, just with a subscription reference to 'Clarity of Thinking' in the subject. Happy inspiration!

... by enjoying the ordinary to be extra-ordinary.
That's the essence of an 'unusual' but interesting approach I bumped on today on Utne .
At the end of the article, there's quite a useful exercice to 'calculate' the exceptional impact of a series of average days ... I'll let you do the reading.
With best wishes for an extra-ordinary year of 'ordinary-ness'.