Posts for 05/2008
How to order or organize mails by conversation topic ? - a question today during an Outlook course....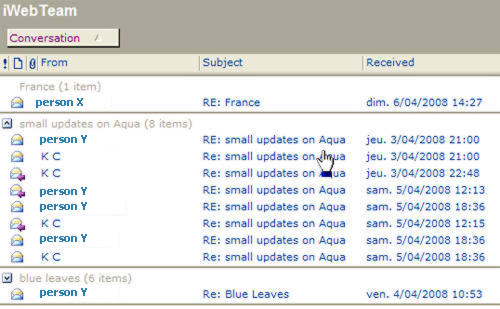 The answer basically is : by grouping the view you're working in by 'Conversation' - a special field made available by Outlook; just go to the menu View | Arrange by | Conversation. (this is for Outlook 2003, but the main menu system is actually still available in Outlook 2007 too...)
You'll get a screen as the one shown above, allowing you to drill down through the topics by clicking on the small arrow in front of the topic.
A more detailed description is available on the Office web site.
Or how to survive Outlook 2007's rendering limitations?
Writing and developing html email hasn't become particularly easier over the years - on the contrary, the new version of Outlook, Outlook 2007, virtually forces the developer to go back to table based design or use design methods which had been abandoned already.
Whilst searching some information on which email programs still support background images, I bumped on this very comprehensive overview on this matter: A Guide to CSS Support in Email - Last years's version is here: A Guide to CSS Support in Email: 2007 Edition.
You'll find some links on which CSS selectors are not supported anymore in Outlook 2007, but especially also an overview of which properties are supported by which email client - great information !
Equally great is Campaign Monitor's Guide for the Web Designers wanting to survive the html email saga, full of interesting resources really.
If you're after a comprehensive list of what Outlook does render (or read Word 2007's rendering engine), try this overview at MSN.
Yet another 'enlightening' & interesting must read article on the use of html email: based on Sitepoints' experience when revamping their email newsletters...
Update
There's a commercial preview tool now available: http://litmus.com/
Every now and again someone publishes a post or an article triggering off interesting and/or wild and/or animated discussions, clearly indicating and clarifying the current state of affairs on the topic.
Kevin Yank from Sitepoint recently published an interesting post on CSS Gradients, Transforms, Animations, and Masks, clearly demonstrating what the potential of CSS can be, but also triggering of all kind of remarks and considerations on it's development.
Worth reading !
There's a couple of ways to get a better view on predecessors and successors in MS Project
1) You can use a split screen view (Window > Split) and show the relationship diagram in the lower pane (Views / More views / relationsship diagram). This will show yougraphically the predecessors and successors of the task selected in the top pane.
2) In the split screen view, display the Task Form, and format the task form to show Predecessor and Successors. That view is not a graphic view, but does allow you to change predecessor/successors as well as modify the link type and add lag or lead.
3) Jack Dahlgren (MVP) also made some sample VBA code to trace predecessors and successors available. You can find Jack's macro page at : http://masamiki.com/project/macros.htm.